10x Quality on your AI Chatbot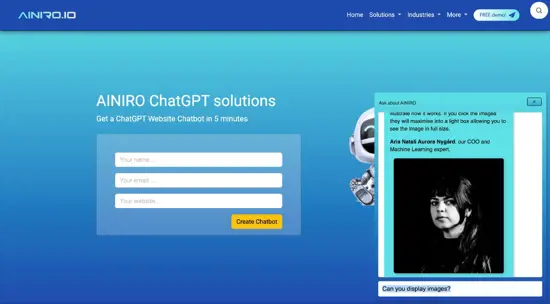 Today we finally released our new anticipated AI technology for our ChatGPT AI chatbots. This has been an anticipated release for a lot of reasons, the most important being 10x increased quality and 10x increased database speed.
The quality improvements allows you to create a much smarter chatbot with much smaller amounts of data, and a chatbot that displays images perfectly, hyperlinks to relevant pages in your website, and bold, italics and lists as you see fit.
While the database speed improvements allows us to deliver chatbots based upon websites with potentially thousands of pages where we previously were restricted to some 500 pages in total. Notice, we're still not faster than ChatGPT, since we're dependent upon OpenAI to answer questions - But the database speed allows us to deliver chatbots to a segment we previously had no offer to.
New use cases
Below are some examples of what we can do now that we couldn'tdo before because of the database updates.
Need an AI chatbot for your E-Commerce website having thousands of products? No problem, we've got you!
Need an AI chatbot documenting super complex products with traditional documentation filling dozens of books with text? We've got you!
Need an AI chatbot documenting a software framework with millions of lines of code? We've got you!
Previously all of the above use cases where things we had to turn down because of that we didn't have the database technology for pulling it through. I've written about our new database technology before, but to make a long story short, we had to create our own vector-based plugin for our SQL database allowing us to index records using vector based semantic search indexing technology.
In addition to the above changes, we've also changed the default model from OpenAI we're using as users create their own AI chatbot to GPT4. Previously we were using GPT3.5, this was because GPT3.5 was 3 times faster than GPT4 - But the last 3 weeks, OpenAI have been rolling out changes to GPT4 that actually makes it perform (almost) on pair with GPT3.5, so this argument is no longer valid.
One really kick ass thing is that our AI chatbots will actually by default display images now. Previously getting the chatbot to display images was a lot of hard work from our side, but today if you create a demo AI chatbot it will automatically display images if you ask it to, and/or have images on your website of for instance products, etc. If you want to test our AI chatbot's capabilities in regards to displaying images, you can create a free 7 day demo chatbot below.
Notice, we've already updated all of our partners' cloudlets and chatbots, but we will need a couple of days to upgrade our paying clients - And Aria or Tage might contact you over the next couple of days as we upgrade your cloudlet to make sure the transition becomes as smooth as possible. However at the end of the day, we just gave you 10x quality products for the same price as you're already paid us. So just kick back and relax realizing that over the next couple of days, you're getting 10x product quality for the same price you're already paying 😇