Celebrating EMCS, the go-to vendor for AI chatbots in the UK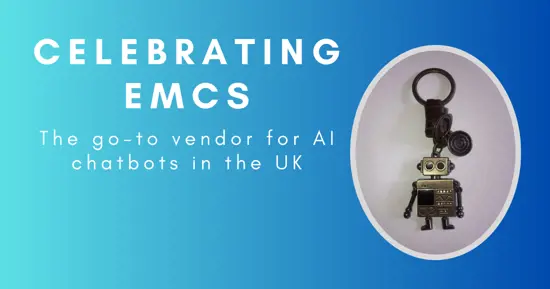 Today, I'm thrilled to take a moment and shift gears from our usual content. I want to dedicate this blog post to celebrate our valuable partner and dear friends at Edward Martin Computer Services. Behind every successful business, there are individuals who stand by them through thick and thin, and in a world where relationships often revolve around transactions and professional networking, finding a partner who becomes a friend is a rare blessing. At AINIRO, we're proud to say we've partnered up with EMCS.
Our journey
Our journey together started almost half a year ago - when James (owner of EMCS) saw a blog post by Thomas on Facebook. He reached out to us to discuss a partnership, and it wasn't long before we realized that our shared values, entrepreneurial spirit and dedication to excellence made us the perfect team. After getting an agreement down, we held a training session with James and Charlotte. Charlotte is their webdesigner, who has a talent for everything technical - she understood our platform so well after just one training session that she even experimented with and did stuff we hadn't thought of yet. Even when we launch new updates, I'm impressed by how quickly she's able to learn to implement the new feature.
EMCS is located in Williton, UK, and they offer a wide range of services related to computers, including tailored AI chatbots. As our partners, their AI chatbots have all the same features as we do - and their team is incredibly talented. We're confident in their ability to deliver high quality AI chatbots. Check out the image below - this adorable robot keychain is something they've sent out to potential clients. What a cute and personal way to market their services, don't you think? Much more personal than a letter only stating which services they provide, like a lot of businesses market themselves.
Why EMCS?
Together, we have weathered storms, and tackled challenges. We have witnessed the growth of our respective ventures, supporting and encouraging each other every step of the way. What sets EMCS apart from potential partners we've had to turn down, is their unwavering commitment to our shared vision. They consistently go above and beyond, putting their heart and soul into everything they do. They also push us to think outside the box, and aim for nothing less than greatness. So today, we want to express our heartfelt gratitude to EMCS for their contributions and their unwavering support. It is through partnerships like these that we realize the true power of collaboration.
The lovely people over at EMCS have given us every reason to believe and know that they care, they strive for greatness at every turn and they deliver high quality products and services. So, if you are in the UK and looking for a high quality tailored AI chatbot: contact EMCS or visit their website for a demo!