Have a ChatGPT Website Chatbot in 5 Minutes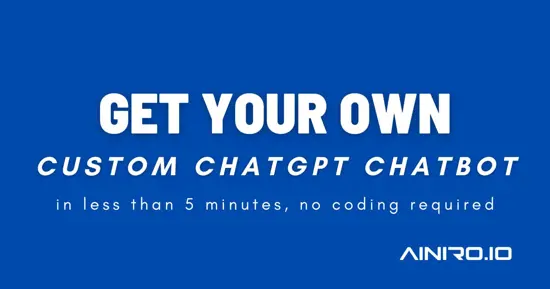 We've struggled with our onboarding process for our ChatGPT website chatbot product. Don't get me wrong, our product has been kick ass, but the process of getting the product has been a little bit, well, "inconvenient" to be say the least.
However, today that all ends. Today you can get a ChatGPT Website Chatbot in 5 minues 🎉
The process is a dead simple form, asking you for your name, email, and website. Fill out the form, have a cup of coffee, and 5 minutes later we'll send you an email with a demo page resembling your existing website, and the embed code required to put the chatbot on your website.
How it works?
The way it works, is that our system will scrape your website and create a custom Machine Learning model based upon your website. Then we will "copy" your landing page from your website, and embed our chatbot script on the copy, and send a link to your email - Including the embed script allowing you to immediately embed the chatbot on your own website. This allows you to see roughly how the chatbot will look like on your website.
Notice, a demo chatbot only scrapes 25 pages from your website, it does not re-crawl your site at night, and it is automatically destroyed after 7 days. This is why it's called a demo. If you like the demo, you can just reply to the email sent by our system, and one of our Machine Learning experts will contact you and get your requirements.
Notice, a production-grade chatbot will typically by 10x as high quality, in addition to that we can turn on lead generation, you can chose theme, and chose from a "bajillion" additional features. The demo is just a "small taste" really, but it should give you an idea of what we can do once we go really deep into our work.
Please realise that if your web server has been configured with CORS, some of your fonts, CSS files, and images might not correctly download to our "copy version" of your website. This might result in UI errors when displaying the chatbot on your demo page. This will not happen in a production chatbot, and will only occur on the demo page. The reason is that CORS will prevent other URLs besides your own website to serve fonts and such to others. Once the chatbot is embedded on your website, this is no longer a problem.
Also, if you've got UI elements in the bottom/right corner of your page, such as for instance an existing chatbot, this might prevent our chatbot button from correctly displaying. However, we can move the chatbot and the button to any part of your page you want. In a real production chatbot, you can also chose between 20+ themes. Allowing you to change colour and design of the chatbot. In addition to that we can of course also create a completely custom theme for you if needed.