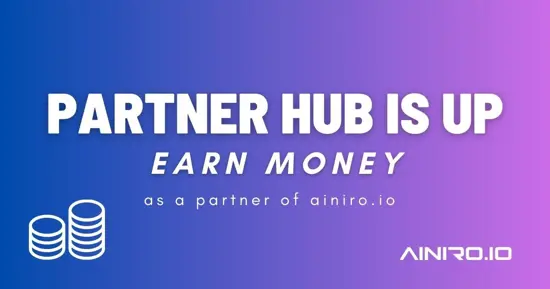 We have a pretty amazing partner deal. In fact, we've got two partner deals;
Affiliate partnership
Full partnership
Our affiliate program offers a commission on net revenue to our partners for each successful purchase made by a referred customer. This enables our approved partners, such as influencers with a significant following, to promote our products by sharing a unique link to our website. As a result, whenever a customer signs up for our services through an affiliate link and completes a purchase, the referring partner will receive a percentage of the net revenue generated, providing an opportunity for mutually beneficial partnerships. This deal is practically zero work, besides sharing a link with a specific structure. See details further down in this article to understand the required link structure.
Full partnership
Our full partner program offers a percentage of net revenue that is significantly higher than our standard affiliate program. However, it requires a more significant commitment from partners as they are responsible for providing first-level support to all customers they refer, as well as generating their own leads and closing sales. This involves setting up a cloudlet and creating a ChatGPT chatbot such as ours, which can be a time-consuming process. Therefore, only those who are willing to invest the necessary effort should consider becoming full partners.
A full partnership will be given thorough training, 2nd level support, and we will even help market your services, in addition to even to some extent send leads to you and your sales team. However, to become a full partner it is a requirement that you at least purchase our basic product for yourself, at which point we will spend several hours teaching you and your team every single detail about how our technology actually works, and what's required to setup an amazing chatbot, AI Expert System, or AI Website Search.
To become a full partner is a lengthy process, and requires a signed contract. If this sounds daunting, I suggest you choose to become an affiliate instead.
Partnership approval
Both of the above tiers needs to be approved by us. If you want to apply to become a partner, you can use our contact form here and provide your reasoning, and/or links to blogs, YouTube channels, LinkedIn profile, etc for us to be able to evaluate you as a potential partner - Or a link to your company page such that we can assess what you're able to bring to the team. Once you've been approved, you will get an additional menu item in hub, named "Clients". From here you can monitor your clients, purchases, registrations, and everything required to follow up on your clients as you see fit. Below is a screenshot.
The balance in the above image is how much money you can withdraw. The total is how much your total commission is. The accepted part is how much you're earned in total. The reason why these are two different figures, is because we don't pay out commissions before at least 30 days have passed since payment was being made. So you'll typically always have a higher total than accepted amount. You can even monitor your earnings over time, such as illustrated below.
In addition you can follow up on registered users and clients, and see how much commission you've made on an individual user basis, allowing you to see who buys what, when, and for how much.
If a user registers but doesn't confirm his email for instance, you can see it in this screen, allowing you to follow up on that user, having him or her confirm his or her email address, etc.
All in all we think this is a valuable addition to our suite of products, allowing you to earn money being a partner of us, by selling either ChatGPT website chatbots, AI Website Search or AI Expert Systems. If you've got a popular YouTube channel, you can use it to demonstrate our product, while sharing an affiliate link in its description, resulting in having commission each time a user signs up, and purchases one of our products.
Partner links
From hub you can share a direct signup link if you wish, this is fairly self explanatory, and you can simply copy the link from your partnership page. Such a link has the structure of /r/YOUR_USERNAME. However, you can also share any page on our website with a similar structure, by simply appending ?r=YOUR_USERNAME to any link in our website, including our blogs, solution pages, landing page, etc. If your username is for instance "foobar" and you want to share a link to the "https://ainiro.io/blog/auto-crawling-chatgpt" article, the complete link structure would end up resembling the following.
https://ainiro.io/blog/auto-crawling-chatgpt?r=foobar

This will create a persistent cookie on the user's device, that will be stored for 30 days. If the user signs up before 30 days have passed, the user will be associated with you as an affiliate client. If the user later makes a purchase, you will have your commission, and you'll be able to withdraw that commission 30 days after the payment was being made.