The value of our ChatGPT Chatbot Widget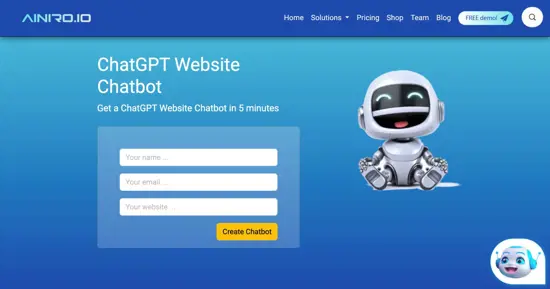 I've written about our white label ChatGPT website chatbot product before. Yesterday which was our first official launch day for our widget, our website was HAMMERED! We experienced an epic amount of unique users, and interactions on our Facebook posts went through the roof!
If you don't understand the point, realise we're basically allowing every single company in the world to start "competing with us" by allowing them to deliver their own ChatGPT chatbot in 5 minutes on their own websites, completely white labeling our product, and sell it "as their own product".
The idea being that digital marketing companies, web design companies, outsourcing companies, etc, can rapidly put a "create your own ChatGPT website chatbot widget on your your website in 5 minutes" - And then get an additional source of revenue stream based upon subscription based payments, in addition to using the widget to gather super high quality leads for their existing initiatives. However, how much is such a widget worth? Well, yesterday were our offocial launch day you might argue, and I suspect an image says more than a thousand words ...
Yup, you're seeing that correctly. We increased organic traffic by roughly 500% in one day. For the record, we have spent a huge amount of resources to optimise our website, so if you're able to experience such numbers will depend upon a lot, such as your existing website's quality, how persistent you are in your social media intiatives, and how much you're willing to market your new service. Our numbers seems to point towards a 7% conversion from website visitors to super hot leads though. The industry average is 1%, so such figures are obviously "fairy tale figures" for most in the industry.
How many leads we generated
I don't want to disclose exactly how many leads we got yesterday, but let me give you a hint. I had a meeting with the amazing people at DigitAllInOne yesterday - And during this meeting, we had 7 people signing up for a website chatbot. If you don't believe me, ask Hector about it. My Apple Mail program just went; "pling, pling, tata pling-pling" basically non-stop during the meeting. Let me illustrate the pressure with another peak image to let you understand what I'm talking about.
Yesterday it was a ZOO, and we apologise to people registering if we cannot answer you as fast as usual, but we're DROWNING IN EMAILS TODAY! And we're trying our best to help you all out as good as we can.
Wrapping up
The above was kind of the idea with our initiative. Us realising we cannot "build Rome alone", and that we need partners to help us handle the pressure. If you want to help us handle some of these leads, please let us know, and we'll run you through our partner program, allowing you to hopefully reproduce the above numbers, becoming a "ChatGPT website chatbot product vendor" yourself. We're at the breaking point of what we can handle now, and there's nothing we would want more than to have you offload some of these leads to YOU, and doing revenue share with you, such that you can help us scale, while maybe being able to reproduce the above numbers for yourself.
If you're interested in partnering with us, and get a ChatGPT chatbot widget such as ours on your own website, please contact us. To understand how the process works, realise we can put our widget on your website, such that you get the leads it generates, and everything is branded such that it appears to be your product, completely hiding us in the process - Which is kind of the point with a white label product.
To sum up, imagine how many leads you could generate it your website resembled the following ... 😁