Try out the #1 Custom ChatGPT Chatbot for Free for 7 days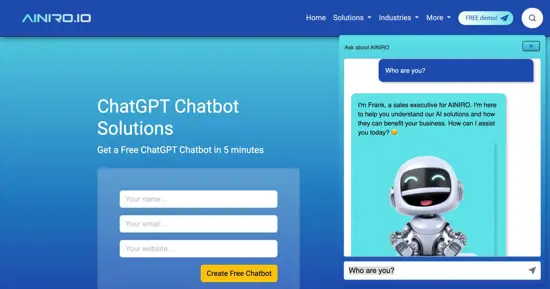 Microsoft tried to give it to you in ChatGPT/Bing, and failed. Amazon didn't want to give it to you because it allows you to sell from your own website. Google didn't have the balls to give it to you, because it is more powerful than Google Search. We'll give it to you for free for 7 days to verify our claims. I am of course talking about our custom ChatGPT chatbot.
We're so confident in our technology, we'll allow you to try it for free for 7 days. All you need is a website, a name, and an email address, and we'll create a custom ChatGPT chatbot that you can test on your own website for 7 days, answering questions related to your data, allowing your customers to "chat with your website".
Some facts about our chatbot
Below are some facts from happy clients of us.
Of course, having the only AI chatbot in the industry that ticks in at less than 50KB of initial bandwidth, remembers conversations, collects leads, adresses people by name, and can show product images potentially increasing sales by 1,600% helps.
In addition it integrates with Shopify or any other E-Commerce platform, it integrates with your CRM system, and basically anything you have from before, making it become an instant productivity tool, and/or sales executive. It also comes with 20+ different designs out of the box, and is easy to customise according to your exact needs.
We could continue mentioning features for several pages without repeating ourselves, but we'd rather have our chatbot sell itself, so why don't you try it? It's free for 7 days, no string attached 😊