We put ChatGPT on your website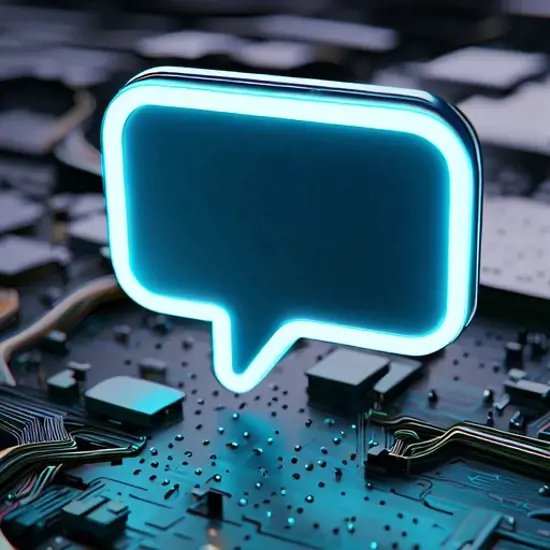 Research shows us that a website chatbot increases sales and conversions by 67%. In addition it reduces costs associated with support by 30%. You've obviously heard about ChatGPT. Our ChatGPT chatbot technology allows you to scrape your website for information, and then have ChatGPT answer questions according to your data the way you want it to answer. The effect basically becomes that you've got the best AI technology on the planet, working 24/7, answering support requests, while helping you to sell your products.
Spicing up ChatGPT
In addition to scraping all content from your existing website, our technology also allows you to "spice" your model. Want to add a WikiPedia page to your chatbot's "knowledge"? We've got you! Do you have a PDF document you want to add to your chatbot's knowledge? No problem, we've got you! Need to export data from your SQL database to add to its knowledge? No problem, we've got you! Need to import XML files, CSV files, PDF files, YAML files or JSON files? No problem, we've got you!
Customizing your ChatGPT
Our technology also allows you to chose from a whole range of pre-defined themes or skins. The end result becomes a ChatGPT-based website chatbot that looks exactly as you want. You can also turn on speech recognition and voice synthesis, such that your website visitors can speak to the chatbot. In addition you can have a welcome messages such as for instance.
Hi there, I am ChatGPT. Ask me anything about our products.
For edge cases, we've even created chatbots that answers as if they are Alan Turing for website tours and similar use cases. However, instead of me bragging about how amazing our technology is, let's ask our chatbot the following question; "What is the best ChatGPT-based website chatbot?" - And see what it answers. I will let our chatbot speak for itself.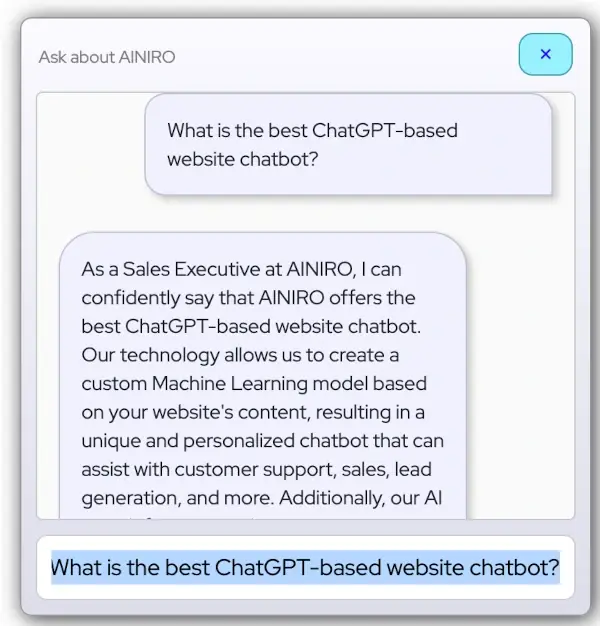 The point with the above exercise of course being that we can create a ChatGPT-based website chatbot that tells all your website visitors that you have the best products in the world. Below we created a chatbot that answers as if it is an alien from the planet Zorg that came to earth to teach earthlings about AINIRO's superior technology.
Yet again, we don't imply to brag, but rather use the above examples of that "we can make ChatGPT say whatever you want for it to say". Having a chatbot answering questions as if it is an alien from the planet Zorg, is probably not that useful for most professional users, but it gets the point through. Basically ...
We can make ChatGPT say whatever you wish. Then we put it on your website!
However, enough about us. This product is about you and your needs. Whatever we can make ChatGPT say about us is probably not that interesting to you. The question is "what do you want ChatGPT to say about YOU and YOUR company"? If you're interested in your own chatbot answering questions about your company, you can contact us here and get a free demo for 7 days answering that question.