AI Chatbot for Cleaning Companies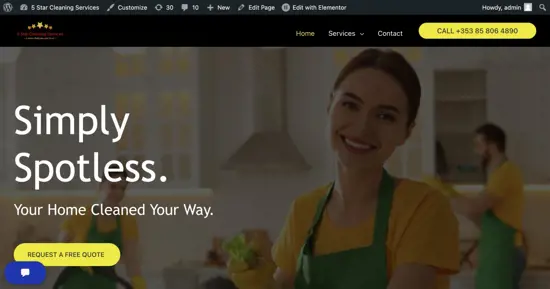 5-Star Cleaning Services is a small "mom'n'pop" cleaning company operating out of Dublin in Ireland. They came to us because they wanted to increase conversions on their Google Ads such that more people clicking their ads becomes clients.
5-Star Cleaning Services is not our typical client. Our typical client is larger, often from the enterprise space or E-Commerce space, often with much larger AI budgets. However, it pleases us a lot to also being able to serve the smaller and more traditional mom'n'pop stores, making AI available for also the small companies amongst us, such that it's not only available for the large corporations.
We believe AI should be available for everybody!
Sharon contacted us because her primary problem is that she's in an extremely competitive market, with huge companies having sometimes tens of thousands of employees, and branches all over the world. Contrary to her competitors, Sharon's Google Ads budget is tiny. It's extremly important for Sharon that she can get "as much bang for the bucks as possible", so she wanted to use an AI chatbot to increase engagement on her site, hopefully resulting in more leads turning into clients.
Sharon being extremely passionate about cleaning wanted the AI chatbot to reflect this, so we configured it as a sales executive, providing prices, guarantees, and showing images from before and after jobs - In addition to testimonials from happy clients. With the goal being of course to increase trust and have as many leads as possible contacting Sharon to get a quote and become paying clients.
PPC dilemma
If you've ever executed a Google Ads campaign, you know you're paying per click. This is referred to as PPC. One click might have a cost of everything from $1 to $100, depending upon your vertical. This implies that every time somebody clicks on your ad on Google, you need to make sure the statistical probability of that these becomes clients is as high as possible.
One way to achieve this is by "engaging" the visitor on your site, with the goal being to establish trust, resulting in that a lead turns into a paying client.
AI chatbots are still a novelty. I doubt there are more than 5 cleaning companies on the planet that has one on their website today. The cleaning industry is also a highly traditional industry, probably thousands of years old, and I doubt it's the first industry that comes to mind when you think about lofty words such as "innovation" and "artificial intelligence".
For these exact reasons it actually makes a lot of sense for Sharon to embrace AI, to stand out in the crowd, become a novelty amongst her competition, and provide something probably not even her largest competitors have at this stage. If you think about it ...
Who wouldn't want to have the AI solving our cleaning issues ...?
By playing upon these ideas, hopefully Sharon can significantly increase her click-2-customer ratio, resulting in more leads becoming paying clients, reducing her customer acquisition cost, allowing her to continue delivering a kick ass product for an inexpensive price. You can find Sharon's chatbot below.
If you're based in Dublin, Ireland, and you enjoy having small mom'n'pop stores delivering superior quality, I'm sure Sharon would appreciate if you share a link to her website in Social Media to help her drive traffic and acquire new customers 😊