ChatGPT Chatbot with Calendar Integration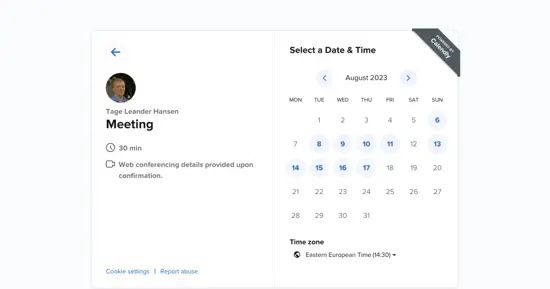 The web is an amazingly simple, yet extremely powerful tool if you respect it as is - Something clearly seen by how we just added Calendly integration to our ChatGPT chatbot. You can try it out for yourself by asking our chatbot "Can I book a meeting with a human?" - At which point our chatbot will open up Tage's calendar and allow you to book a meeting with him.
The way it works is that we've got a Markdown training snippet with a link to Tage's Calendly profile. Visitors can click this link to book a meeting with us. So simple, yet so efficient! Below is a screenshot of an example conversation where somebody wants a meeting.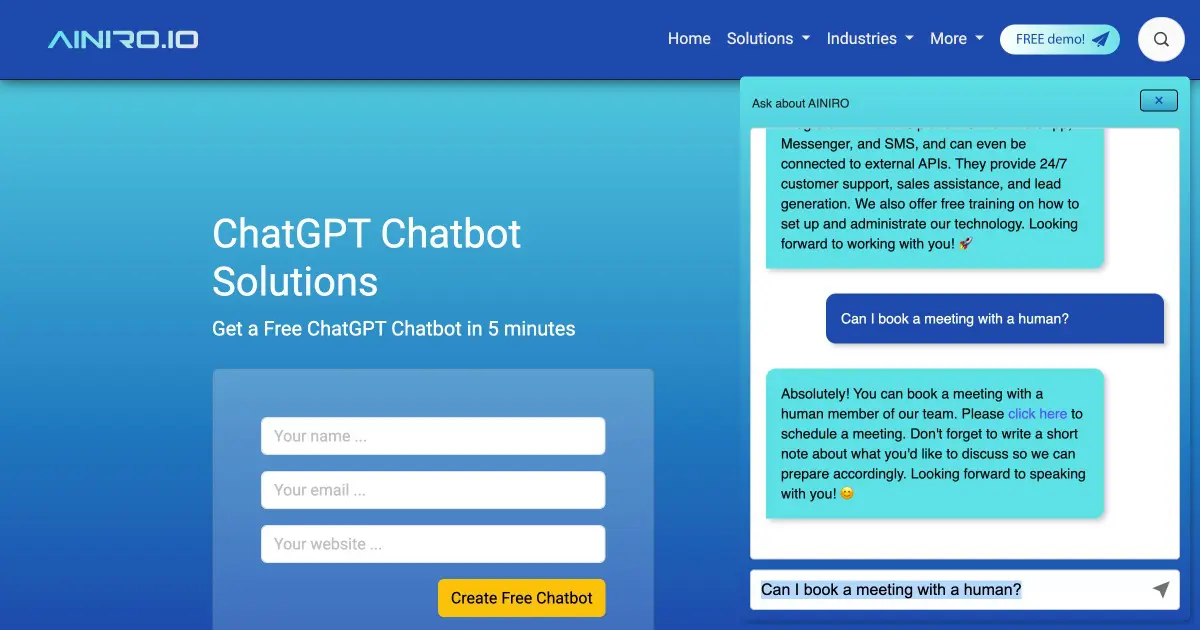 Use cases
We could have gone further, and provided a small icon or image of a calendar where you click the calendar image to open up the calendar. This might have created a more dramatic effect. Some use cases I can imagine can be found below.
Book a restaurant table
Book a hotel room
Book an appointment with a lawyer
Book a meeting with your doctor
Etc ...
Any booking system that has an online web-based interface can be integrated similarly. We use Calendly as our calendar tool, but anything with a web interface can be used instead.
Example Chatbot Calendar integration
Did I mention I love the web? You see, as long as it's on the web, it automatically integrates with our ChatGPT chatbot technology. Let me illustrate by showing you how it looks like in the backend.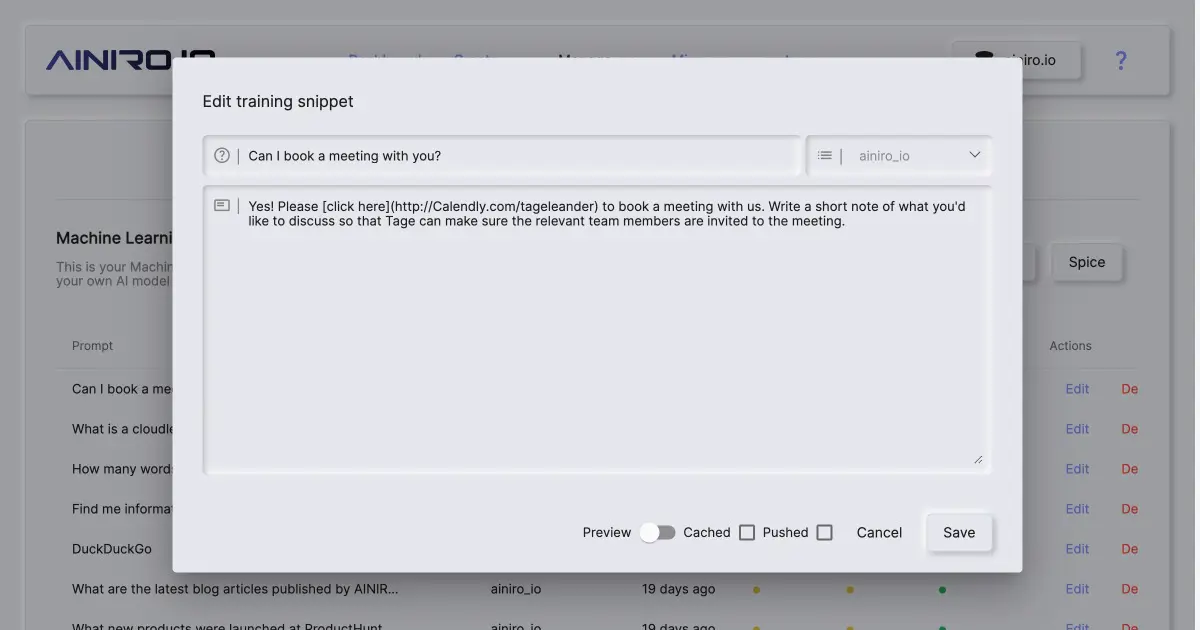 The above is a "training snippets" for our ChatGPT chatbot. Any permutation of a question resembling the prompt will automatically kick in as a "context" when you ask our chatbot a question. When the answer is being displayed, the Markdown will transform into HTML, resulting in that our chatbots can speak with "rich language" containing hyperlinks, lists, images, etc.
Anything you can display somehow on a web page can just as well be displayed inside our chatbot
This allows us to also integrate things such as Google Maps locations, YouTube videos, etc. The possibilities are endless.
Need ChatGPT chatbot?
If so, then talk to us - Or even better, have Frank setup a meeting for you with Tage or Aria by asking it "Can I book a meeting with you?" If you want to do it a slightly more traditional way, you can also of course simply send us an email, or even create your own ChatGPT demo chatbot to play with our technology for free for a week before deciding if you want to commit.
Notice, this comes in addition to our lead generation feature that allows the user to drop his name and email into the prompt, automatically triggering an email to your lead email inbox.