What does OpenAI do with your data?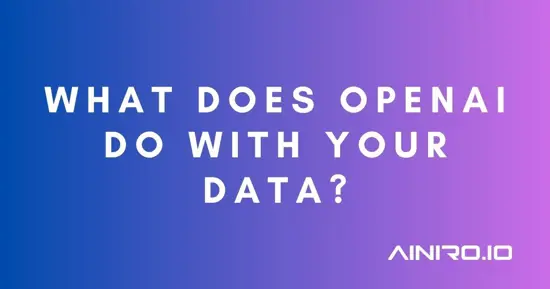 For a long time, this has been one of our most asked questions and one of the biggest concerns of some clients. Today I'll walk you through how it currently works, and how you can stop OpenAI from using your data to train ChatGPT.
One of the most useful features of AI models is that they can improve over time, however when you want to use specifically our AI Expert System, there are many use cases where it might be a concern what OpenAI does with your data - because yes, our system does send the training data through OpenAI.
Does OpenAI retain your data?
When you use OpenAI's non-API services ChatGPT or DALL-E, they may use the data you provide to improve their models. According to OpenAI, they retain certain data from your interactions, but they take steps to reduce the amount of personal information before using your data to train their models. This process helps them better understand user needs and preferences. OpenAI does not use data submitted via their API to train their models. This means that data inputted through our systems, is not used for training ChatGPT! Read more on OpenAI's official website.
Can data retention be stopped if you use their non-API services?
Yes! OpenAI has just made it possible to turn off chat history and model training. This can be done by navigating to ChatGPT - Settings - Data Controls. As long as chat history is disabled, new conversations won't be used to train and improve their models, and won't appear in the history sidebar. OpenAI will retain conversations for monitoring abuse. You can read more on OpenAI's official website.
OpenAI is also working on a new ChatGPT Business subscription for professionals who need more control over their data, as well as enterprises seeking to manage their end users. This subscription will follow their API's data usage policies, which means end users' data won't be used to train their models. They are planning to launch this in the coming months, an exact date has not been announced.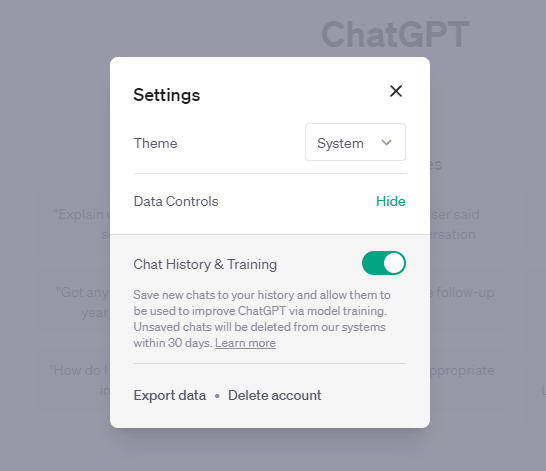 Do we retain your data?
If you've tried out our platform, you might know we have our own history. You might wonder what we do with this data. The answer is nothing. When you use our platform, all the training data and history is your own intellectual property. We do not claim ownership of it, or use it for anything unless you specifically ask us to, for example if you need our help to improve your model. In which case, we may view your data but we do not store it outside of your own cloudlet, and we do not claim ownership of it.
Are you an end user wondering what information is stored in our system? The end user is completely anonymized by our system. Not even we can find out who used the chatbot. If a chatbot is "Supervised" it will retain questions and answers for two weeks - but there's no additional information such as IP etc. Of course if you tell our chatbot your full name, we'll be able to see that. Here's an example image after our CTO Thomas asked our chatbot a couple of questions.

You can read our privacy policy if you want to know more about which information we store about you.