ChatGPT for the Hospitality Industry
ChatGPT is all the buzz today. That's no surprise, considering OpenAI is the fastest growing company throughout human history. It's been growing 15 times faster than Facebook, Instagram, Twitter and virtually every single hyper growth company we've previously seen - And in a couple of months, OpenAI had more than 100 million users signing up for their service. Not leveraging this in the hospitality industry would be madness, the only question is how?
ChatGPT itself isn't all that useful for the hospitality industry - However, if you can train ChatGPT on your own data, and have it answer questions the way you want it to answer questions, the situation becomes different. Imagine having a ChatGPT-based chatbot on your website providing guests with answers about the area surrounding your hotel for instance? Imagine a guest asking a question such as follows;
Where can I go scuba diving in this area?
For then to have a ChatGPT-based chatbot answer that question ...
ChatGPT-based guided tours
Our ChatGPT website chatbot technology can help the hospitality industry by providing guests with answers related to the area they are staying. We've created a demo chatbot for Pissouri illustrating the point. This is just a tiny example of what our technology can do, but still gets the point through.
If you own a hotel or a restaurant for instance, you might want to provide guests with information about places that are worthwhile visiting in the neighbouring area. This allows guests to ask questions such as;
Me and my wife wants to go hiking in nature, and finish with a nice vegan dinner. Can you suggest a nice nature trail for us? Nothing too difficult since we're bringing our 8 year old child who doesn't like to walk far, and the trail must end close to a vegan restaurant
And the chatbot will give the guest the perfect answer if it's trained adequately. Our chatbot technology even allows for displaying images as a part of the chatbot's response to show particularly beautiful scenery providing additional value for your guests. Below is an example of how much we can bend ChatGPT to our will if you doubt us.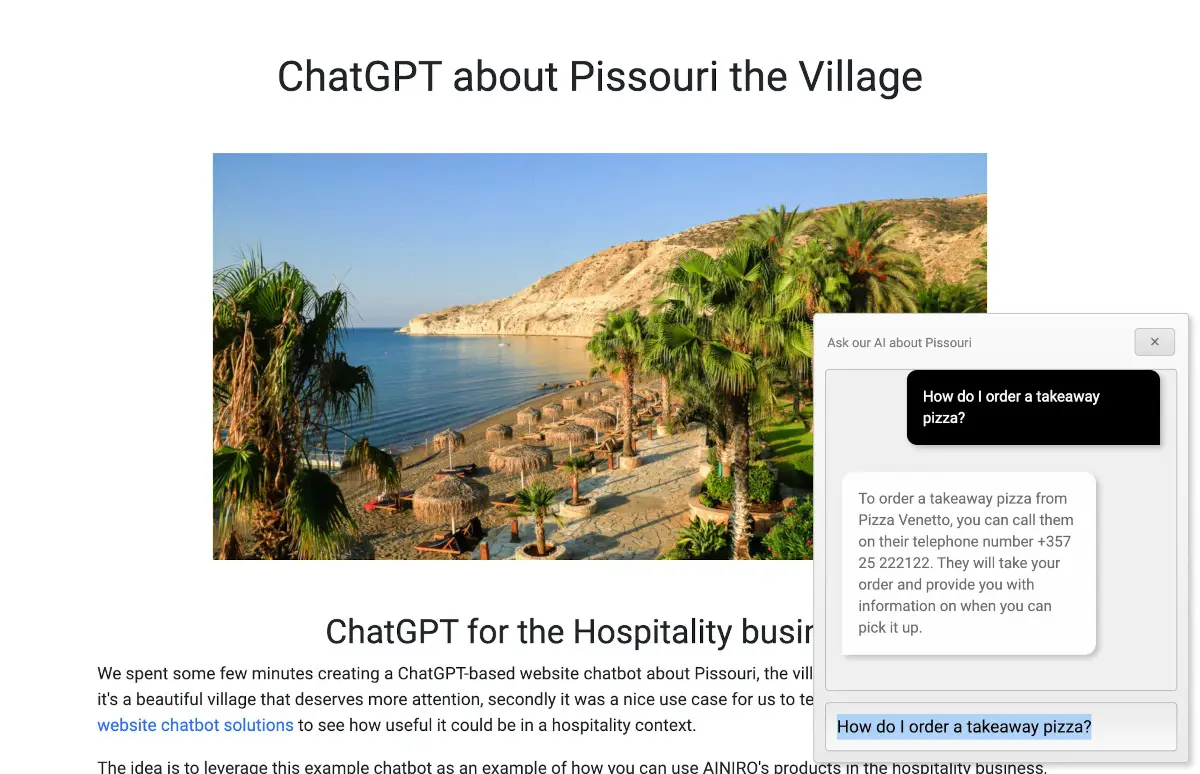 We can even display entire menus, allowing guests to decide what they want to order before placing an order.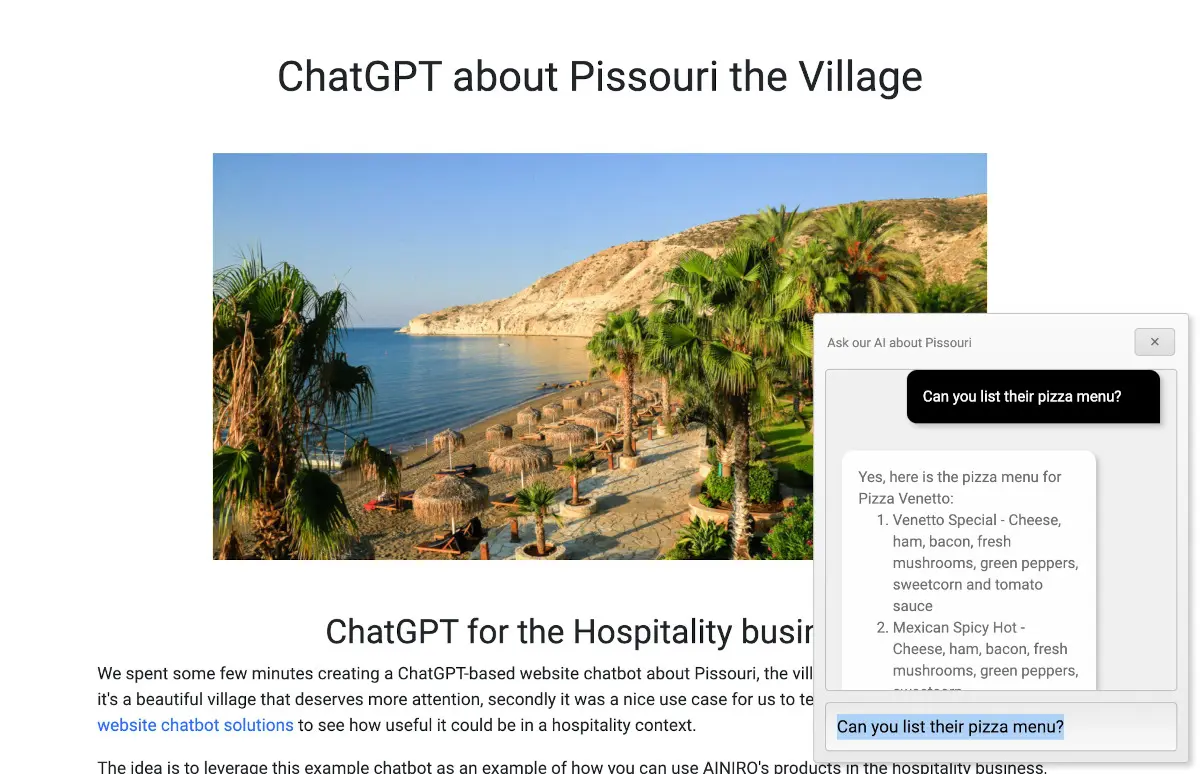 Factual information
If you work in the hospitality industry, you already know how guests have hundreds of questions. These might be for instance;
How do I order a taxi?
How long is the local museum open for tonight?
Where can I get an inexpensive fish dinner?
Such questions are easy for our chatbot technology to answer once we've trained it on data related to these questions. Not only does this allow guests to help themselves while visiting your hotel's website, but it's also available 24/7, giving them the answers they want, when they want them.
Not only does the above provide additional services to your guests, but it might also result in that your hospitality business' website becomes a destination for them to find information. Which gives you an opportunity to show them your particular hospitality business, possibly resulting in them using your services.
Get started with ChatGPT for the Hospitality Industry
This is what we do. We help companies adopt AI and ChatGPT specifically. We can train a custom ChatGPT-based website chatbot that specifically answers questions the way you want it to answer. This provides you with added value for your guests, in addition to that it might result in that your website becomes a destination for everything related to hospitality in your neghbouring area.
If you want us to setup a free demonstration for you without any obligations, please reach out to use using our contact form, and we'll come back to you in 24 hours with a demo for you. In the mean time you can play with our Pissouri chatbot. If you're a DIY-type of person, you can also follow our DIY ChatGPT website chatbot recipe.